Monday, September 27, 2021
On October 1, 2021, Elizabeth Rodriguez Fielder, Assistant Professor, Department of English, The University of Iowa, will present at the American Studies Floating Friday lecture. Her talk is entitled, "Labor of Love: Intimacy as Activism in Madeline Anderson's I Am Somebody (1970)."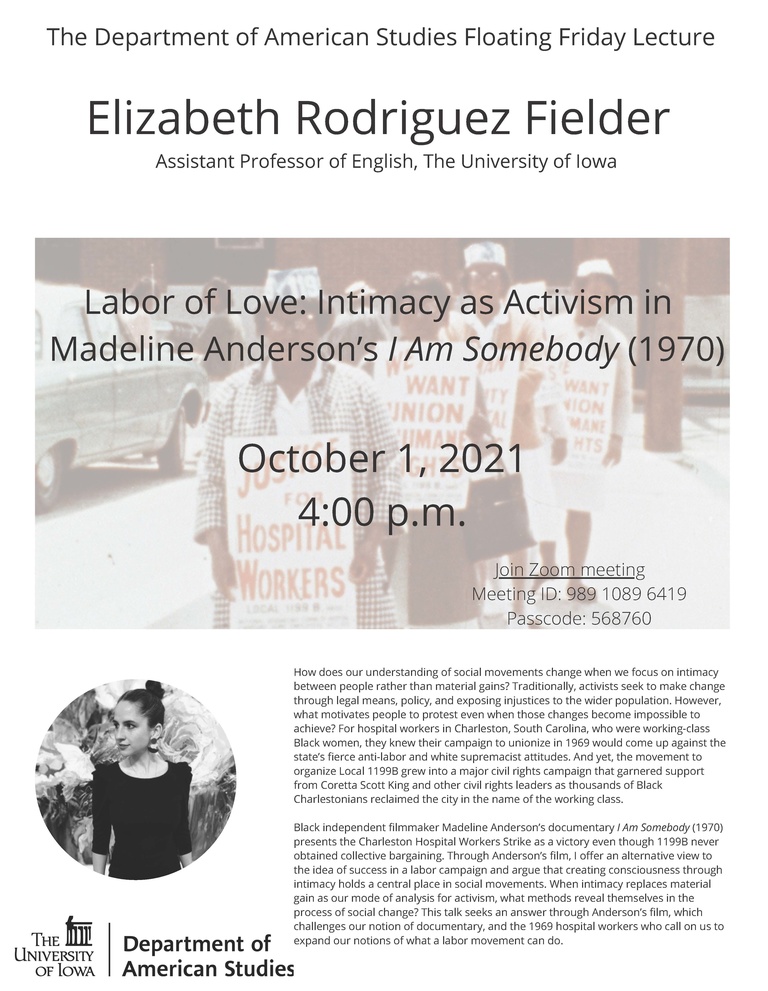 ABOUT THE TALK
How does our understanding of social movements change when we focus on intimacy between people rather than material gains? Traditionally, activists seek to make change through legal means, policy, and exposing injustices to the wider population. However, what motivates people to protest even when those changes become impossible to achieve? For hospital workers in Charleston, South Carolina, who were working-class Black women, they knew their campaign to unionize in 1969 would come up against the state's fierce anti-labor and white supremacist attitudes. And yet, the movement to organize Local 1199B grew into a major civil rights campaign that garnered support from Coretta Scott King and other civil rights leaders as thousands of Black Charlestonians reclaimed the city in the name of the working class.
Black independent filmmaker Madeline Anderson's documentary I Am Somebody (1970) presents the Charleston Hospital Workers Strike as a victory even though 1199B never obtained collective bargaining. Through Anderson's film, I offer an alternative view to the idea of success in a labor campaign and argue that creating consciousness through intimacy holds a central place in social movements. When intimacy replaces material gain as our mode of analysis for activism, what methods reveal themselves in the process of social change? This talk seeks an answer through Anderson's film, which challenges our notion of documentary, and the 1969 hospital workers who call on us to expand our notions of what a labor movement can do.
ABOUT THE SPEAKER
Elizabeth Rodriguez Fielder is a scholar of twentieth and twenty-first century transnational American literature and culture. Her teaching and research interests include multiethnic literature and culture, (specifically African American and Latinx Studies), performance studies, women of color feminism, southern studies, and social movement activism. She received her PhD from University of Mississippi in English; an MA in American Studies from Columbia University; and a BA in English/Creative Writing from SUNY Binghamton.
Her book project "Cultural Activism and the Civil Rights Movement" is a multidisciplinary study of creative activism and performance by minority artists and revolutionaries in the 1960s and 70s. This book engages in the role of creativity in social movements and argues that the aesthetics of cultural production shaped civil rights politics. Rodriguez Fielder presents a vision of social movement activism where the collaborative production of performances and of experimental media overlapped with quotidian activities, such as farming okra and sewing quilts. Her work has appeared in The Global South, The Cambridge History of the Literature of the U.S. South, PMLA, Undead Souths, Fifty Years After Faulkner, and Tropical Gothic with topic ranging from radicalism in Florida to ghosts in Faulkner.