The minor in Latina/o/x studies requires a minimum of 15 s.h., including 12 s.h. taken at the University of Iowa. Students must maintain a cumulative g.p.a. of at least 2.00 in all courses for the minor and in all UI courses for the minor. Coursework in the minor may not be taken pass/nonpass. A maximum of 6 s.h. of work for another University of Iowa major, minor, or certificate may be counted toward the minor.
To request approval of a course for the Latina/ox/ Studies minor which is not currently on the approved list, students can submit an online course petition.
The minor helps to prepare undergraduates for careers in medicine, public health, social work, business, education, and the arts, and to respond to the changing demographics of the United States.
Listed below are the general categories of coursework required to earn the degree; for more specific information on courses, curriculum, and requirements of the minor in Latina/o/x studies, visit the UI General Catalog.
Degree Requirements
Title
Hours
Foundation course
3
Historical and Cultural Approaches courses
6
Comparative and Transnational Topics course
3
One additional course from either:

Historical and Cultural Approaches courses OR
Comparative and Transnational Topics courses OR
the Independent Project in Latina/o/x Studies

3
Total Hours
15
Available Courses by Semester
The availability of courses that satisfy requirements for the minor may change from semester to semester. In order to make it easier for interested students to find these courses, included below is a list of available courses by semester.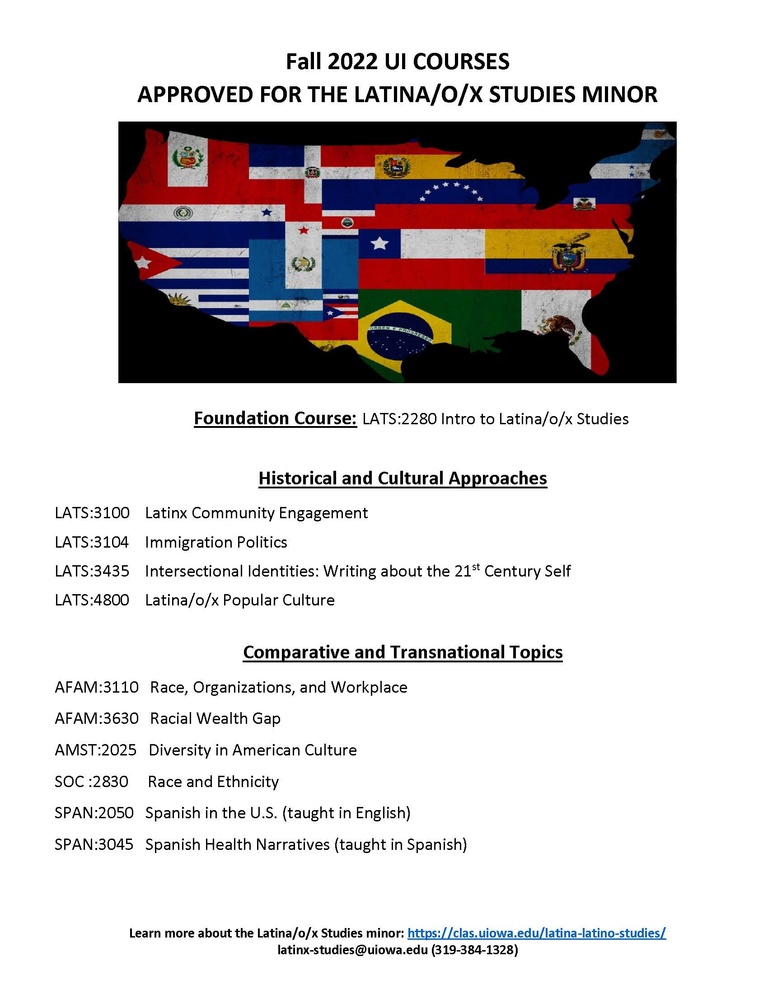 Fall 2022
Foundation Course:
LATS:2280 - Intro to Latina/o/x Studies
Historical and Cultural Approaches courses:
LATS:3100   Latinx Community Engagement
LATS:3104   Immigration Politics
LATS:3435   Intersectional Identities
LATS:4800   Latina/o/x Popular Culture
Comparative and Transnational Topics courses:
AFAM:3110   Race, Organizations, and Workplace
AFAM:3630   Racial Wealth Gap
AMST:2025   Diversity in American Culture
SOC:2830     Race and Ethnicity
SPAN:2050   Spanish in the U.S. (taught in English)
SPAN:3045   Spanish Health Narratives (taught in Spanish)
Spring 2022
Foundation Course:
LATS:2280 - Intro to Latina/o/x Studies
Historical and Cultural Approaches courses:
LATS:1600    War Stories
LATS:3415    Latina/o/x Protest, Movement, Resistance
LATS:3420    Latinas/os/x and the Law (previously LATS:3550)
LATS:3550    Queer Latina/o/x Studies
LATS:4805    Chicano Cinema
Comparative and Transnational Topics courses:
ANTH:2151   Global Migration
COMM:2076 Race, Ethnicity, and Media
POLI:1900     Introduction to the Politics of Race
SJUS:2250    The History of Social Justice Movements
SPAN:2050   Spanish in the United States